Bubble Gum vom 23.05.2023:
In Our Break Away Era
Non-binary finery Miss Benny meldet sich nach 4 Jahren Pause zurück und nimmt auf "Break Away" keine Gefangenen!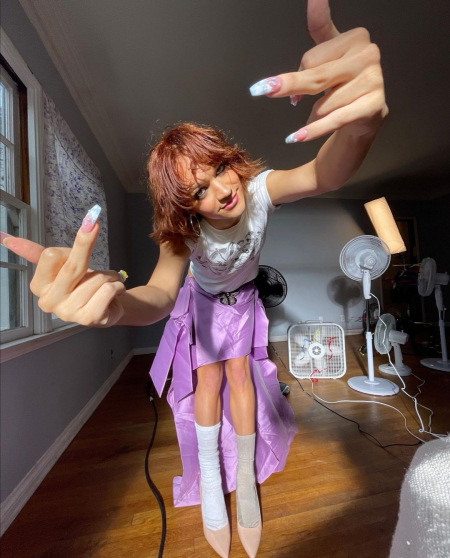 Und vor fast 19 Jahren gabs doch ein gewisses gleichnamiges Album? Also kurzer Abstecher in die 2000er, wo wir weitere iconic Musikmomente ausgraben, die uns das Jahrzehnt beschert hat.
Außerdem: Nach dem ESC ist vor dem ESC! Wir blicken kurz auf unsere Highlights zurück und schauen direkt mal auf das, was uns nächstes Jahr erwarten wird.
Schaltet ein um 20 Uhr auf der 100,0 oder hier im Livestream.

Playlist:

Mimi Webb - Red Flags (Amelia) Epic Records
cruel youth - Alexis Texas (+30mg) Disgrace
girli - Inner Child (why am i like this??) AllPoints/Believe
Luke Black - Samo mi se spava (Single) PGP RTS
Luke Black - Amsterdam (Single) Luke Black Recordings
sevdaliza - Darkest Hour (Shabrang) Twisted Elegance
Namasenda - 24/7 (Single) PC Music
Willa Ford & Royca Da 5'9 - I Wanna Be Bad (Willa Was Here) WEA International Inc.
Rihanna - Pon de Replay (Music Of The Sun) The Island Def Jam Music Group
raye - Black Mascara (My 21st Century Blues) Human Re Sources
Amelia Moore & jxdn - FUMD (Single) UMG Recordings, Inc.
Tove Lo - 2 Die 4 (Dirt Femme) Pretty Swede Records / mtheory
Tove Lo - Call On Me (Dirt Femme) Pretty Swede Records / mtheory
PVRIS - Hallucinations (Use Me) Warner Records Inc.
Talia Mar - Self-Portrait (Single) Sony Music Entertainment UK Limited
KUOKO - Perfect Girl (KUOKO) Kabul Fire Records
PRINS - Something New (Single) Big Dawg Recordings/AntiFragile Music
Daði Freyr - I'm Fine (Whole Again) Samlist
Perfume - Polygon Wave (Polygon Wave EP) UNIVERSAL MUSIC LLC
anaïs - Hold On (Single) Eigenvertrieb
Kelly Clarkson Since U Been Gone (Breakaway) 19 Recordings Limited
Kelly Clarkson Addicted (Breakaway) 19 Recordings Limited
Wednesday Campanella - Little Red Riding Hood (Single) WARNER MUSIC JAPAN INC.
Calvin Harris & Dua Lipa - One Kiss (Single) Sony Music Entertainment UK Limited
Miss Benny Break Away (Single) Discount Doll LLC
Aurora - In Boxes (Running With The Wolves) Decca
Eyelar - Obsessed With Your Ex (Single) 2-Tone Entertainment
FKA twigs & The Weeknd tears in the club (Caprisongs) Young Recordings Limited
TYRA - Heavenly Way to Sin (Single) Artist M.S./Tap-Water Records
Booty Luv - Some Kinda Rush (Boogie 2Nite) Hed Kandi Records|Ministry of Sound Recordings Limited
Bea Miller & 6lack - it's not u it's me (Single) Hollywood Records, Inc.
miirtek - Clear To You (Single) Eigenvertrieb
Moderation: Kai Jordan