Lieblingslieder 12.01. - 25.01.2021
Verfasst von Amelie Liebst am

"Sesame" is the latest release by Toronto based musician Homeshake.
"I made this song for fun to send to some friends while we were watching their cat Sesame for a week. It turned out better than I meant to so we decided to release it with this nice video animated by John Andrews. My friends are now moving to the arctic for a year so Sesame will be our new roommate. This is the third song I wrote about a cat. " - homeshake

100% of profits from "sesame" will go towards rotating organizations. The first month's profit was benefit RAINN (The Rape, Abuse & Incest National Network).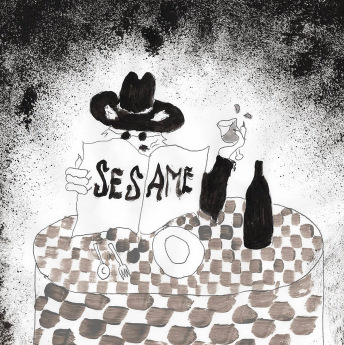 Architects - Black Lungs (Single) Epitaph
Black Pistol Fire - Hope in Hell (Single) Black Hill
Chuckamuck - Luna Park (Language Barriere) Staatsakt
Darkside - Liberty Bell (Single) Matador
Easy Easy - Wake Up At Noon (Single) 1996611
Everytime I Die - Colossal Wreck (Single) Epitaph
Farhot - Kishmish (Single) Kabul Fire
Gazelle & The Bear - When You're Around (feat. Stimulus) (Single) G&TBMUSIC
Sam Gendel - FFLLYYDADA (DRM) Nonesuch
Homeshake - Sesame (Single) Homeshake
Joesef (feat. Loyle Carner) - Does it make you feel good? (Does It Make You Feel Good? EP) Bold Cut/AWAL Recordings
KLEE Project - Back On In Love Again (Single) This is Core
LA Priest - Peace Lily (GENE) Domino
LAYLA - Blicke (Single) Eigenvertrieb
Main Concept - 3.0 (Single) Buback Tonträger
Sarah Lesch - Licht (Single) Räuberleiter
OG Keemo - Malik (Single) Chimperator
Parking Lot Flowers - Grocery Store (Single) 694238 Records DK
Pinegrove - Morningtime (Amperland NY) (Single) Rough Trade
Queen Kenzie - Generationi (Single) Eigenvertrieb
Rico Nasty - Candy (Nightmare Vacation) Sugar Trap/Atlantic
SIBBI HIER - Tag für Tag (Single) Gute Laune Entertainement
Jorja Smith - By Any Means (Single) FAMM
Spiritbox (feat. Crystal Lake) - Constance (Single) Rise Records/BMG
Terrorgruppe - Männers (Single) Eigenvertrieb
Tkay Maidza - You Sad (Single) 4ad