Mixtape vom 08.03.2019:
après°garde
a modern postpunk mixtape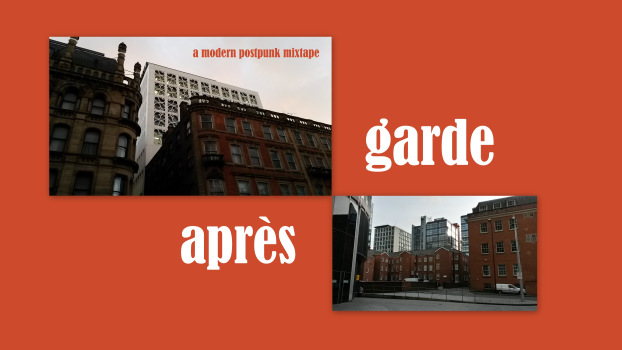 postpunk has celebrated its revival for some years now. bands such as joy division, bauhaus, siouxsie and the banshees and many, many more made postpunk a cultural phenomenon in the late 70s and 80s. how come this openly dark genre is rising from the proclaimed dead?

we don't know. we don't care. we listen and we share!


playlist:
soft moon, the – feel (feel) the soft moon
all diese gewalt – kuppel (welt in klammern) staatsakt
rvg – a quality of mercy (a quality of mercy) fat possum
iceage – take it all (beyondless) matador
diiv – bent (roi's song) (is the is are) captured tracks
ought – these 3 things (room inside the world) merge records
preoccupations – monotony (preoccupations) jagjaguwar
kudzu – defeated (defeated) push & pull
holygram – hideaway (holygram) ravewave
froth – petals (ouside (briefly)) wichita recordings
underground youth, the – alice (what kind of dystopian hellhole is this?) fuzz club
moaning – don't go (moaning) sub pop
grand blanc – samedi la nuit (mémoires vives) entreprise
whispering sons – strange identities (whispering sons) weyrd son records
eagulls – skipping (ullages) partisan records
isolation berlin – die leute (vergifte dich) staatsakt
lebanon hanover – gallowdance (tomb for two) fabrika records
maus, john – outer space (addendum) ribbon music
wax chattels – gillian (wax chattels) captured tracks
drab majesty – too soon to tell (the demonstration) dais records
karies – alice (alice) this charming man records
iceage – beyondless (beyondless) matador
diiv – under the sun (is the is are) captured tracks
preoccupations – zodiac (preoccupations) jagjaguwar
ought – disgraced in america (room inside the world) merge records
holygram – daria (holygram) ravewave
froth – show a flower a candle and it will grow (outside (briefly)) wichita recordings
sonic jesus – modern model (grace) fuzz club
moaning – artificial (moaning) sub pop
friends of gas – ewiges haus (fatal schwach) staatsakt
Redaktionelle Leitung und Moderation: Wiebke Reimers