Und das Jahr 2022 geht weiter mit noch mehr fetter Musik, hoffen wir mal dass das Jahr so bleibt! Und wir eventuell auch mal wieder Bands live sehen können.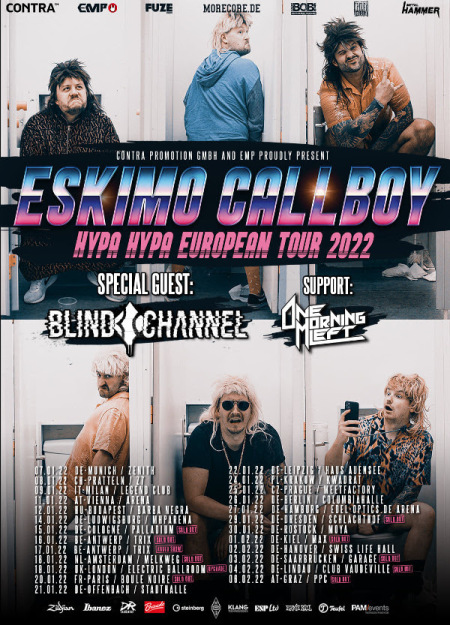 Denn ESKIMO CALLBOY bringen mit ihrer Single "Pump it" nicht nur 70s-Flair und Zeiten von "Call on Me"-Dance-Workouts zurück, sondern haben auch Tourdaten bekannt gegeben. Die Band überzeugt mit ihrem Mix aus Elektro-Metalcore, gepaart mit Witz und viel, viel Show. Wir können es kaum erwarten!

Hier unsere Top 30:

The Düsseldorf Düsterboys & Maurice & The Familie Summen - Traurige Gesichter (bmerica) Staatsakt Records
Bambara - Birds (Love on my mind) WHARF CAT Records/ Cargo Records
Cage - Waterfall (Single) All Records
Cat Power - Unhate (Covers) Domino Records
Cypress Hill - Open ya mind (Single) BMG Rights Management
Dali Muru & The Polyphonic Swarm - The Danube Dwellers (Eigenname) Stroom Records
Divides Heaven feat. GUISE - Creep (Single) Gunner Records
Echt! - 500 gr (esns 2022) whitelabel
Eskimo Callboy - Pump it (Single) Century Media Records https://www.youtube.com/watch?v=OnzkhQsmSag

Hippo Campus - Ride or Die (Single) Grand Jury Music
Joss Stone - Never forget my love (Single) Bay Street Records
JuJu Rogers feat. Mick Jenkins & DAO - Minneapolis (Single) Counterkultur & PLYGRND
June, Valerie - Smile (Acoustic) Fantasy Records
KMPFSPRT - Vom Augenwischer zum Millionär (Single) Uncle M
Lida - Ljubov 2000 (Original: Любовь 2000) (МОЕ ИМЯ ЛИДА) DNK Music
Lumen der Minister feat. CAGE - D'Angelo (Single) Eigenvertrieb
Mary J. Blige - Rent Money (Single) Mary Jane Productions
Michael Malarkey - Thunder at Sea (Thunder at Sea) Cap on Cats Records
Miki Ratsula feat. Dana Williams - Sugarcane (Single) Nettwerk
Minoa - Fear of Failing (Single) Listenrecords
NOBRO - Julia (Single) Big Scary Monsters
Okfella - Kopf an, Herz aus (feat. BIBIZA) (Single) BMG rights management

Rex Orange County - Keep it up (Single) Sony Music
Schilde, Carl - Roadworn (Fun in the Church) Europop
Smile and Burn - Dieses Stück Hoffnung (Single) Solitary Man Records
Sparkling - Not the right place (Single) Moshi Moshi Records
Tropen Tropen - Paola (Single) Eigenvertrieb
Turner, Frank - A Wave Across A Bay (Frank Turner Hardcore) Xtra Mile
Volbeat - Wait A minute My Girl (Servant of The Mind Deluxe) Universal Music
Yard Act - 100% Endurance (zen f.c./island) The Overload
Viel Spaß beim Reinhören!